Max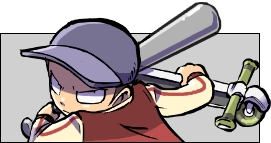 The sarcastic twelve-year-old protagonist of Paranatural. Only recently gained the ability to see ghosts. Recruited by the Activity Club on his first day at Mayview Middle School after stumbling upon a possessed baseball bat that gave him magnet powers.
Isabel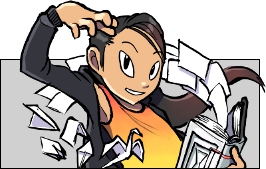 An energetic girl in the Activity Club. Able to see ghosts. Her tool, a book, allows her to create and manipulate paper. A bit heavy-handed in dealing with supernatural problems. Goes way back with Ed.
Ed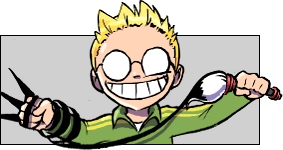 A hyperactive member of the Activity Club. Able to see ghosts. His tool, a paintbrush, paints brushstrokes in midair that he can climb on or use as weapons. Very close with Isabel.
Isaac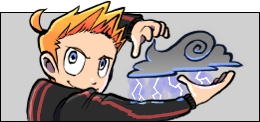 A serious member of the Activity Club. Able to see ghosts. A bit of a know-it-all, he believes he can teach Max about the supernatural better than Mr. Spender. He might be right. He is a medium with weather powers.
Mr. Spender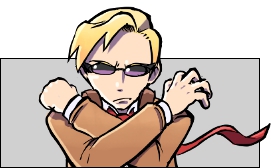 Seventh-grade history teacher and leader of the Activity Club. Able to see ghosts. Frustratingly slow at explaining things. Wears dark sunglasses indoors for some reason.
Max's Dad

Max and Zoey's crazy father. Moved the family to Mayview, where he grew up, on a whim. Owns and operates the Corner Store.
Zoey

Max's nine-year-old sister. Somewhat more tolerant of her father's antics than Max is.
Johnny

Delinquent scourge of the seventh grade. Not the brightest candle in the menorah. Has a friendly sort of grudge against Max.
Stephen

Johnny's friend and right hand man. A budding conspiracy theorist.
Ollie

Over-sized goon of a seventh grader and a follower of Johnny.
R.J.

A quiet member of Johnny's gang of bullies and ne'er-do-wells.
Suzy

The bubbly president of the unofficial Journalism Club. Flouts school rules like its nobody's business. Dislikes the Activity Club for their refusing to be interviewed back in the sixth grade.
Collin

A member of Suzy's rogue Journalism Club. Short of temper and stature. Cynical and easily flustered by Suzy's actions.
Dimitri

A laid back member of the Journalism Club. Oddly disinterested in journalism. Mostly just hangs around Suzy and Collin and smirks a lot.
Jeff

A goofy, high-strung kid in Max's grade.
Violet

A mature girl who hangs out with Jeff, Lisa, and Cody.
Cody

A friendly kid in Max's grade. His most abnormal trait seems to be his tolerance for his friends' abnormality.
Lisa

An eccentric young lady in Max's grade. Best friends with Violet.
P.J.

A nervous ghost that haunts Max's house. Best pals for life (death?) with Lefty.
Lefty

A disembodied hand that inhabits Max's house. Is a poltergeist, a ghost that can interact with physical objects. Protective of P.J. and handy in a fight.
Mr. Garcia

A lethargic seventh-grade science teacher. Infamous among the student body for his role in the so-called "pizza incident."
Ms. Baxter

Max's math teacher. Has a hard time controlling her class.
Mr. Starchman

A bouncy, overly-enthusiastic English teacher. Hands out Starchman Stars, which can be redeemed for prizes.